We deal with thermoforming for a wide range of industries. Our experience allows us to comprehensively implement projects from the first sketch to serial deliveries. We specialize in designing and manufacturing the following products:
We present a brief description of each of these product groups and our sample projects.
Blister pack is formed as a result of heating the material and giving it a proper shape set by the mould. Another term for blister commonly used is stamping or moulding. It is a product made with thermoforming technology. For the production of blister packs, transparent films (mainly PET and PVC) are most often used due to the possibility of an elegant exposition of the packed product. The possibility of sealing a blister with a box or foil protects goods against accidental opening or theft. For ecological reasons, the snap blister, made of homogeneous and easily recyclable material (PET, PVC) or a blister sealed with another blister or foil of the same type, is becoming more and more popular.
We offer production of blisters with maximum dimensions of about 1210 x 500 x 120 mm, but for special orders we can also make blisters with dimensions up to 1500 x 1000 x 600 mm.
We can divide blisters by closure type:
Sealed blister with foil
Sealed blister with box
Clamshell blister
Folded blister
Blister packs are very popular and can be found in practically every market segment. Batteries, toothbrushes, metal items (screws, nails, nuts), cosmetic items (lipstick, mascara, etc.), school supplies, toys, and more are packaged this way.
Below are sample blisters.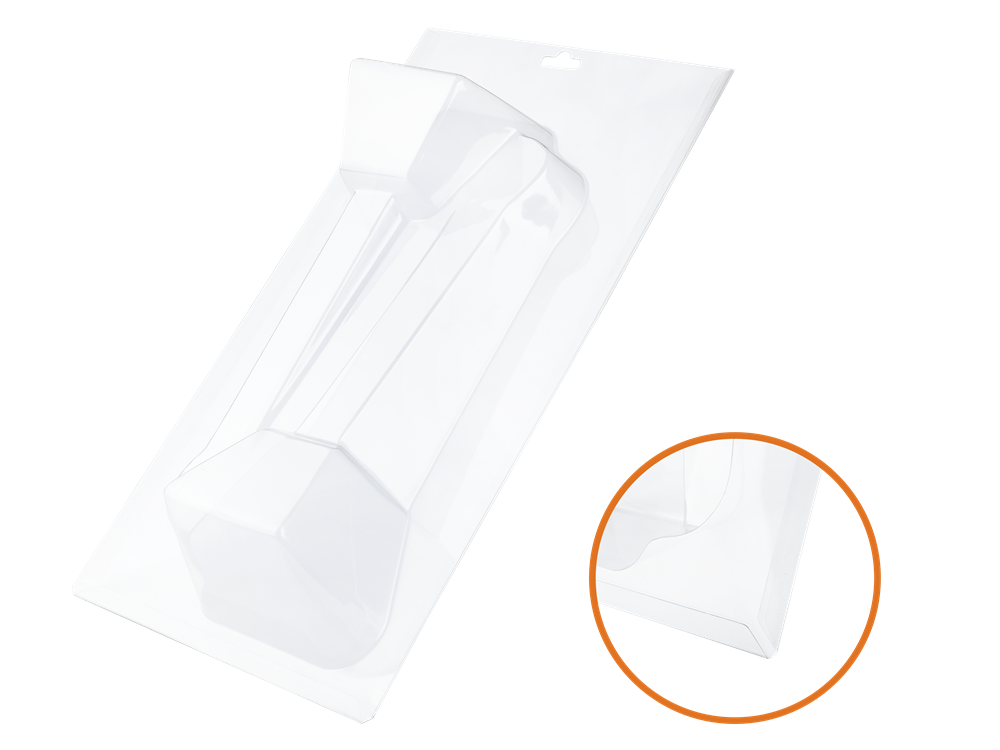 We manufacture trays and logistics pallets from boards as thick as 16 mm, and the maximum dimensions of our trays are 1500 x 1000 x 600 mm.
The primary task of transport trays is to secure and separate workpieces with as many slots as possible.
Our trays and pallets provide protection against dust and splashing of products, and by using special ESD materials they also protect against electrostatic charges. In industry, these types of trays are most often used for intermediate transport, external logistics and storage.
Trays are made from a variety of materials, including: PS, ABS, HIPS, PVC, PP, PET, HDPE.
Our solutions are used among others:
in transport and storage of e.g. electronics – pallets with specified surface and volume resistance
in contact with chemicals
in gardening – weather and UV resistant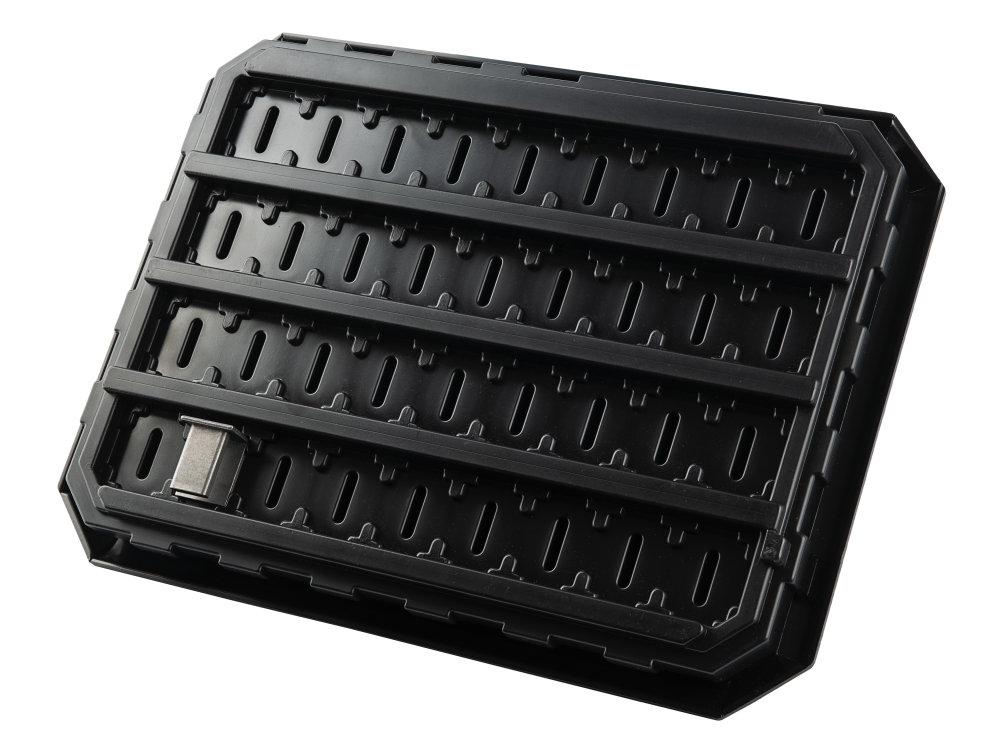 Trays, after designing the geometry and appropriate materials, can have the characteristics of a self-supporting tray with high rigidity and strength.
Stackable empty and filled. A tray rotated 180 degrees can plunge up to 70% of its height into the other tray. In the opposite position, it has designed elements that precisely fix the position of the tray.
Trays marked by serial numbers, logos, date stamps.
For the industrial sector, we offer trays with negative angle protrusions and undercuts obtained by using movable elements in moulds.
To make it easier to orient the trays in the right position, we suggest a tray shape with one corner beveled or foil stamping with a contrasting stripe.
The main task of box inserts is to position the pieces, often preventing the product from moving in the package.
The sockets in the insert very often accurately reproduce the geometry of the packaged elements, thanks to which the movement inside the moulding is minimised, and the chance of damage to the parts during transport reduced to a minimum.
The compartments in the insert can also be used to sort a variety of small items as in card and board game inserts. Most disposable inserts are made from thin films, but in the case of board game inserts, the life cycle of the moulding is much longer and high quality and thicker films can be used.
For improved aesthetics, inserts can be made of flocked or decorative foil in a variety of colors.
Forty manufactures box inserts with maximum dimensions of approximately 600 x 400 x 120 mm. On special order we can produce mouldings with dimensions up to 1500 x 1000 x 600 mm.
The most commonly used materials for box inserts are PS, PP, and PET films – black, white, transparent, colored, and flocked.
We design box inserts based on the target box provided and the pieces that need to be placed in it.
We offer initial 3D visualization or prototype moulding based on moulding on a simple resin mould.
Below are examples of box inserts.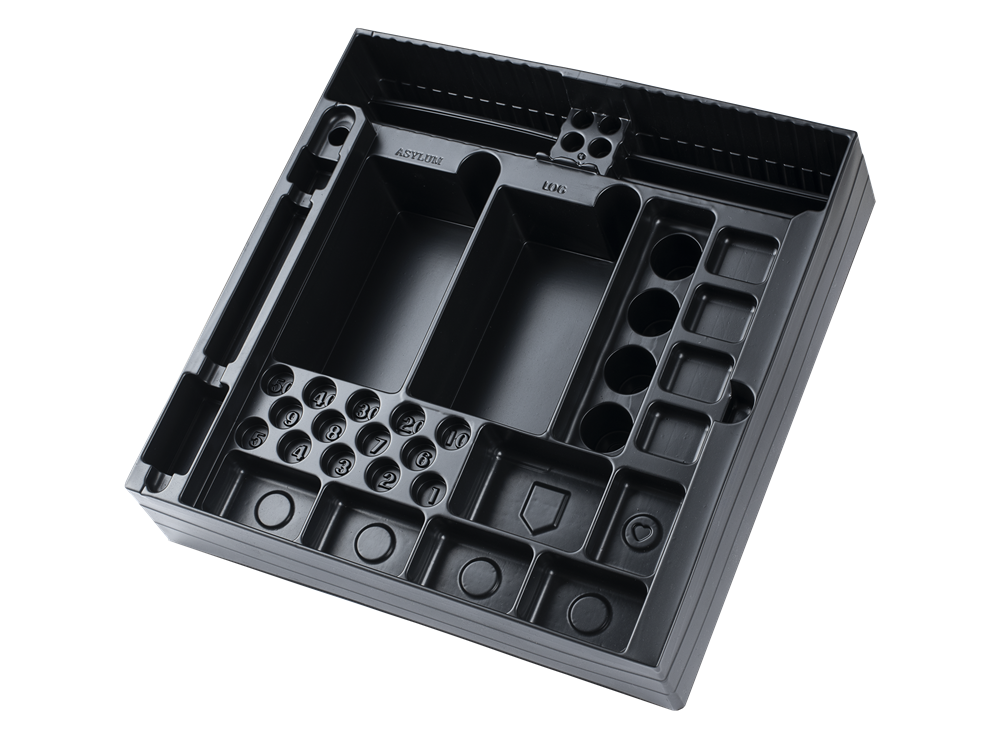 Another strictly technical category is housings, covers and thermoformed machine and equipment parts. We make a variety of products of this type for the automotive, industrial, electrotechnical, electronic and other industries. Very often we are dealing with complex projects that require additional finishing on our 5-axis machining center. The moulded parts we produce include parts used in vehicle interiors, enclosures for various electronic systems, covers for sewage treatment plants and many others.
The pieces we produce can be characterized by, among other things:
resistance to weathering and UV rays
specific surface and volume resistance
approval for contact with chemicals
Enclosures and covers are very often manufactured from thicker panels, of thicknesses up to 16 mm, while the maximum dimensions for such workpieces are 1500 x 1000 x 600 mm.
They are made of various types of materials, including: PS, ABS, HIPS, PVC, PP, PET, HDPE and others. Often, we also press them out of knurled plates with a given texture, e.g. leather pattern or other.
We select the appropriate material and its thickness on request,
and we also adjust the geometry to maintain the proper stiffness and strength of the finished product.
Advertising displays, exhibitors and stands are designed to attract customer attention and well expose the product sold. They are used in stores, showrooms and exhibitions, among others. Made of high gloss foil and designed by our designers, they further enhance the aesthetics of the entire set. Our displays can be the final stand-alone product or be created as stand element, such as inserts for cardboard, wooden or metal stands.
A key aspect is the design of the display, which we receive from the customer or design in-house, in consultation with the customer.
The most important thing is to meet the expectations of the customer; we serve our experience and suggest modern solutions, taking into account current trends in the advertising industry.
Displays are usually produced from high gloss or flocked films, and their dimensions usually do not exceed 600 x 400 x 120 mm. The maximum dimensions for such parts are 1500 x 1000 x 600 mm.
They are made of various types of materials, including: PS, ABS, HIPS, PP, PET and others.
Most projects of this type are carried out for the cosmetics, retail, food and industrial sectors.
Below we present sample projects.
We also offer production of custom pieces with maximum dimensions up to 1500 x 1000 x 600 mm.
When we follow the rules of thermoforming technology, the only limits are the customer's imagination and budget.
We have an extensive machine park, so we can plan the production of pieces on machines according to their purpose, which allows us to cut production costs and reduce material waste. In addition, we offer a finishing service for parts made of thicker materials that require finishing by removal machining on CNC machine tools.
We make custom pieces from all kinds of materials, including: PS, ABS, HIPS, PVC, PP, PET, HDPE and others.
Below are examples of custom product projects.
Our goal is to produce packaging and logistics trays of the
highest quality.